Services
Flight Training

At Harford Air, we can take care of all your training needs for fixed wing aircraft from your Private Pilot Certificate to your Airline Transport Pilot Certificate.
Private Pilot Certificate Program
The following costs are minimum times and only intended as an estimated total MINIMUM cost of $9,675.00
$6120 — 30 hours dual instruction in a Cessna 172 Aircraft
$1580 — 10 hours solo flight in a Cessna 172 Aircraft
$240 — Necessary books and equipment for course
$120 — Medical Examiner Fee for Third Class Medical
$165 — FAA written test
$550 — 10 hours ground school with FAA licensed instructor
$400-600 — Private Pilot check ride examiner's fee
$500 — Aircraft rental for check ride
Note: These are the FAA minimum required times. The national average total time runs about 65 total flight hours and is determined by your ability and frequency of flight lessons.
Requirements for Ratings Past Private Pilot
Instrument: This is an add-on rating which you can add on to any certificate.
Requirements:
40 hours simulated or actual instrument
Written Test
Check Ride
Commercial:
Requirements:
250 hours of flight time which will include both dual and solo time
Written Test
Check Ride
CFI (Flight Instructor): No specific flight hour requirement
Requirements:
Must be endorsed by a senior flight instructor (a CFII for 24 month or greater)
Must hold a Commercial and Instrument rating.
Written Test: Fundamentals of Instruction
Written Test: Flight Instructor Airplane
All day Check Ride
CFII (Flight Instructor Instrument): No specific flight hour requirement
Written Test
Check Ride
Redo of Instrument Check Ride
ATP:
Requirements:
Other Flight/Rental Costs
Note: These prices include fuel and oil (including reimbursed fuel at our current fuel prices).
Citabria 7GCBC—$134 ($189 dual instruction/$209 for Spin Training)
Cessna 172SP—$149 ($204 dual instruction)
Piper Arrow—$179 ($234 dual instruction/ $254 CFI/ATP Training)
Skycatcher—$99 ($154 dual instruction)
Note: Dual instruction is your per hour total cost for the plane and a flight instructor.
Miscellaneous Instructor Costs:
Instructor using Harford Air Aircraft—$55 (see dual instruction above)
Instructor using any other aircraft—$59 (such as flight instruction in your own aircraft)
Instructor advanced training rates – $75 (CFI, ATP or Spin Training)
---
1/2 Hour Sight Seeing Rides

1 Person—$99
Extra Person $15 per person with maximum of 2 additional passengers
At Harford Air, we offer sightseeing rides and photo flights. There is nothing quite like a beautiful sunset over the Harford countryside, the magnificence of Rocks State Park, or an aerial view of the beautiful Susquehanna River.
You can customize your flight by speaking with your pilot and telling them what you would like to do. We have even had wedding proposals done in the air flying over a favorite or meaningful spot!
---
Photo Flights
Need to take pictures for an organization or just for fun? Our pilots will take you where you need to go so you can get the pictures you need.
Prices are $204 per flight hour which includes the Cessna 172SP aircraft, fuel and pilot.
Note:  you are only charged for time in the aircraft.
---
Banner Towing
We can also provide banner towing for your special occasion. A great way to advertise your company or event, or surprise that special someone with exciting news. We have towed:
Promoting a special Christmas event
Sharing Special News
Proposing to a special someone
The sky is the limit!
Prices begin at $500 which includes the banner set up, 2 hours of flight time and pilot.
---
Aircraft Maintenance

Our maintenance shop is one of the best around. We have a full service maintenance facility, providing high quality service and inspections to help keep your airplane running smoothly and safely for years to come. Our maintenance technicians are honest and fair and have years of experience. If you need an annual or just an oil change, give us a call and we would be happy to schedule it!
---
Pilot Shop and Fuel Sales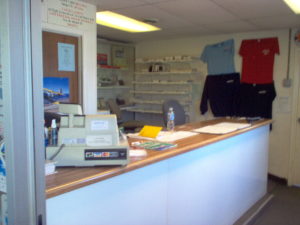 Our pilot shop offers charts and sectionals, headsets, flight bags, and many other pilot supplies. We even have the highly coveted, exclusive Harford Air hoodies and t-shirts you've seen your friends wearing. Stop on in and let us know what you need. We would be glad to help you out!
We also have a variety of fuels which you will find competitively priced:
100LL Avgas $4.89/gal.
Jet A Fuel $4.75/gal.
Sunoco Racing Fuel (Cam 2) $10.00/gal
---
PSI/CATS Computerized Testing Facility
We offer all FAA knowledge tests along with other non-aviation PSI exams.