Instructors/Staff
Staff
Kevin Hess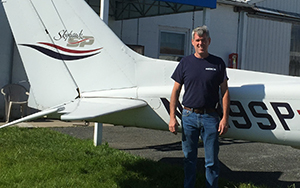 Owner, Harford Air Services, LLC / Co-Owner, Harford County Airport
Certified Airframe and Power Plant Mechanic (A&P)
Certified Inspection Authorization (IA)
Airline Transport Pilot (ATP)
Certified Flight Instructor (CFII)
Tailwheel Instructor
Kevin, a Harford County native, began his flight career while at Salem College, West VA in 1985. While a pilot here at the Harford County Airport, he received his A&P in 1994 and his IA in 1997. He has flown all over the world as a private charter pilot and came back to Harford County where he took over the old flight school in 1996, renaming it Harford Air. Kevin's mission has always been to further aviation in Harford County by making flight training more enjoyable and accessible to everyone.
Kim Miller
Office Manager
Kim, affectionately nicknamed Charlie, grew up on a farm in rural Harford County. She previously worked in the medical field. Our full-time office manager, she enjoys learning new things about aviation and assisting student pilots in meeting their goals. When she isn't behind the counter, she likes to watch the planes at our expanding airport, preferably with a cup of coffee on the swing.
Johnna Bachman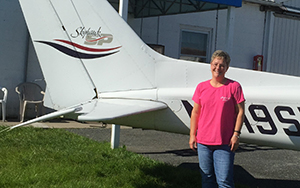 Assistant Office Manager
Johnna has lived and worked in Harford County her entire life: growing up within 7 miles of our airport! She worked as an office manager for 17 years, and a stay at home mom for 18 more. She enjoys working part-time and getting to know our fun clientele and learning about aviation. "It's like coming home!"
Pilots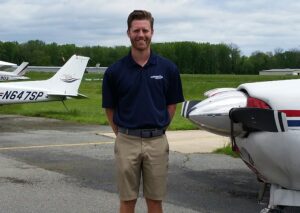 Brad Jacobson
Certified Flight Instructor, CFI
Commercial Single Engine Land Airplane
Brad is our newest CFI. He began his flying career at Harford Air two years ago after majoring in economics at Towson University. He has always been interested in aviation and finally decided this was the path for him! His goal is to fly wide-body aircraft for United Airlines.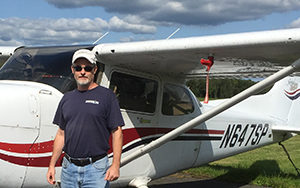 David Kleponis
Certified Flight Instructor, CFI, CFII,
Advanced Ground Instructor Certificate
Commercial Single and Multi-Engine Airplane
Tailwheel Instructor
Dave, who moved around throughout his young life, has been a Harford County resident for the last 30 years. He works full time as a mechanical engineer with the Army Research Laboratory at APG. He has had a love of aviation since childhood and received his Private Pilot Certificate in 1991. By 2004 he had his CFII and has been instructing part time with Harford Air ever since. To further his love of all things aviation, he has obtained his Commercial Hot Air Balloon Certificate as well.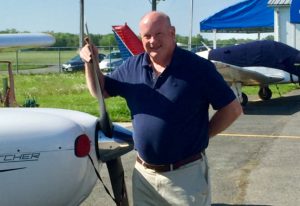 Charles Schulze
Certified Flight Instructor, CFI, CFII
Commercial Single and Multi-Engine Airplane
Originally from Montgomery County, MD, Charlie has been in Harford County since 1991. He began his aviation career as an Army aviator in 1983, achieving his military Instructor Pilot in Helicopters. In 1989 he received his Commercial Airplane and Helicopter ratings. He began teaching at Harford Air in 2012. While he has been in and out of country since that time, we now welcome him back as our Chief Flight Instructor!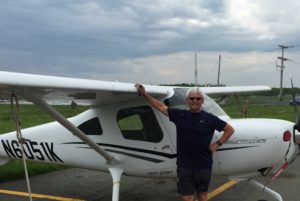 Duane Wallace
Certified Flight Instructor, CFI, CFII,
Tailwheel Instructor
While not exactly a native, Duane has been a Harford County resident since the 1960's. He began his flying career in Fallston, obtaining his Private Pilot Certificate in 1983 followed by his CFII in 2008. As a retired elementary school principal, he is continually learning and received his Rotorcraft Helicopter Certificate in 2014. He loves to teach and to fly! Duane is our Assistant Chief Flight Instructor.
Erik Kotkas
A lifetime resident of northeastern Maryland, Erik Kotkas has been around aircraft for over 18 years. No stranger to teaching, Erik has over 20 years experience owning and operating a martial arts school. He began his flying career in 2001, earning his Private Pilot, Instrument and Commercial certificates at Cecil County Airport. He earned his CFI and CFII certificates at Chester County Airport. He started his teaching career in 2007 and has been teaching ever since. He has a passion for teaching as well as flying. His goal is to provide high quality instruction to his students and to become the best instructor he can be. Erik looks forward to a future as a permanent instructor here at Harford Air.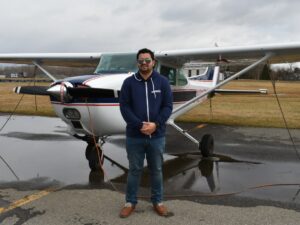 Sebastian Patino-Velasco
Sebastian loves aviation and has a passion for teaching others about the exciting adventure to becoming a pilot. His goal is to have all the aviation certifications possible and deliver a great teaching experience to those who seek the adventure! He currently holds his CFI and is working to get his CFII and MEI.
Mechanics
Kevin Hess
See Bio in Staff Section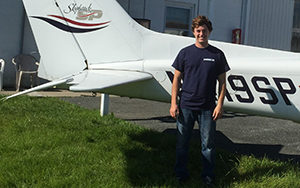 Nicholas Hess
Certified Airframe and Power Plant Mechanic (A&P)
Aviation is in Nick's blood. He not only uses his natural mechanical ability to work on our planes, he has been continuing his flight training since his first solo when he was 17.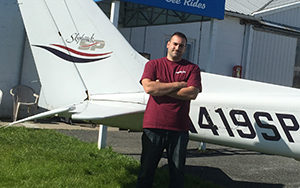 Anthony Svezzese
Certified Airframe and Power Plant Mechanic (A&P)
Tony, a native of Bel Air, served in the Navy as a Jet Engine Mechanic. He came to Harford Air in 2016 to work on his A&P, which he obtained in October of 2016.